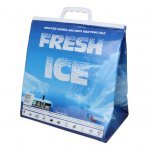 Cold Bag For Food Prodel THERMAL BAG 33X35x20 PENGUIN
Cold bag for food is designed to keep items hot or cold and frozen without the need of ice. Its untearable, waterproof nature/material makes this bag very sturdy and resistant to rips and water. The lightweight and sturdy structure of this bag allows the user to carry load and can be folded completely flat and stored away when not in use. This bag makes a great solution for any activity like grocery shopping, picnics, fishing, beach lunches, events, etc. 
Compare
Description
Additional information
Description
Cold Bag for Food PRD Thermal Bag 33x35x20 Penguin
Insulated cold bag: Keeps food cold for hours without ice thanks to the 3 ply technology (aluminum foil, 0.02mm foam and PE layer).
Food safe reusable bag: Our cold bags are made up of Aluminum foil, foam and PE, which are all 100% Lead-free, BPA-free cadmium-free, that makes it food-safe for food contact. The bags are reusable and can be easily washed to maintain hygiene.
Durable structure: Assures you to carry load without tearing apart.
Lightweight and foldable design: The bag is lightweight, waterproof and folds flat for easy storage. It occupies very little space in your car and you can practically leave one in the trunk of your car and use it whenever and wherever needed.
Plastic handles: Seal the bag to ensure that the temperature of the food is kept at the desired temperature.
Convenient and versatile cold bag: can be used for any kind of activity like fishing, camping, picnics, beach lunches, grocery shopping, events and much more.
What Makes This Cold Bag For Food Different From The Competition:
The PRD thermal cold bag for food makes up an ideal solution for any kind of activity. This bag is all you need to get your cold food cold and fresh without ice. The unique features make the bag stand out from the competition in several ways, are as follows:
Durable materials to ensure the bag won't get ripped while carrying load
Foldable design allows the bag to be stored away when not in use.
Reusable – the bag can be easily washed to maintain hygiene and used over again.
Superior quality closure that seals perfectly and doesn't ruin easily.
Effective insulation keeps your food cold and fresh for hours without ice.
Lightweight structure doesn't allow you to feel the weight while carrying
Food safe and FDA approved for food contact– the bag is free of BPA, Cadmium, Lead and all other toxic metals.
This bag is practical, and spacious. With its key features, this bag makes an ideal solution for daily use.
You will never regret choosing Prodel Bags, your best solution for delivering your expectations in terms of quality, value and price.
Where Can PRD Thermal Bag For Cold Food  Be Used?
PRD Swift LT is convenient for delivering food, and can make a perfect solution for delivering groceries, flowers/plants, electronic devices, beauty care products and parcels. The PRD Swift LT is a multi-functional thermal foldable delivery backpack.
What Items Can Be Used Inside Thermal Bag For Cold Food?
PRD Thermal bag is ideal for storing cold drinks, juices, fruits, seafood, milk and any other items.
How many boxes we can deliver with this Thermal bag for Cold Food
10 small lunch boxes (15x10x4.5 cm) can fit inside this bag.
PRD Thermal Bag Specifications Summary
Size internal: 34x34x19 cm
Size external: 35x35x20 cm
Internal capacity: 19 Liters
Material: Aluminum foil
What Can We Fit Inside This Bag?
This bag can fit:
Up to 5 kgs of fish, ice cream, or meat
What Are The Possible Customization Options:
We can custom print any design on this bag
Additional information
| | |
| --- | --- |
| Internal Dimension (cm) | 34x34x19 |
| Internal Dimension (inches) | 13.38"x13.38"x7.48" |
| External Dimension (cm) | 35x35x20 |
| External Dimension (inches) | 13.77"x13.77"x7.87" |
| Internal Capacity (liters) | 19 |
| Carry Mode | Hand |
| Loading | Top |